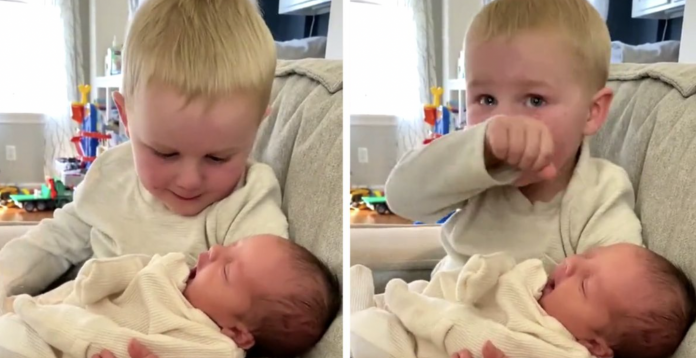 This video is the sweetest thing you will see all day. A little boy crying tears of joy while carrying his new baby sister in his arms is so wholesome and beautiful to see.
The little one was showing so much love and affection to his baby sister when he carried her in his arms.
The video of the boy's emotional outburst is warming hearts online with many persons reacting to the boy's show of affection.
When the boy was asked to say something to his baby sister, all he could manage was to shed tears of love, and joy for her.
The boy just kept his baby sister close to his chest showing her what a caring a loving elder brother he was going to be.
People were quick to appreciate this video with one social media user writing, "Beautiful. A little human being in its purest form. Mankind. Our essence is love. Let us all learn from this heart-warming video. We all were young. We all were pure. Sometimes growing up in this cold world. We have to stop and ask ourselves "what happened?". Let us bring back the little us in us. And love each other. Thanks for sharing."
Another person reacted to it writing, "Interesting, as older children often show jealousy or even aggression when a sister or brother is born. Wonder which emotion is determined by what cause or experience. Brain scientists are working on this. The answer leads to the reason, why lots of adults have lost such level of love and affection or never experienced."
Watch: