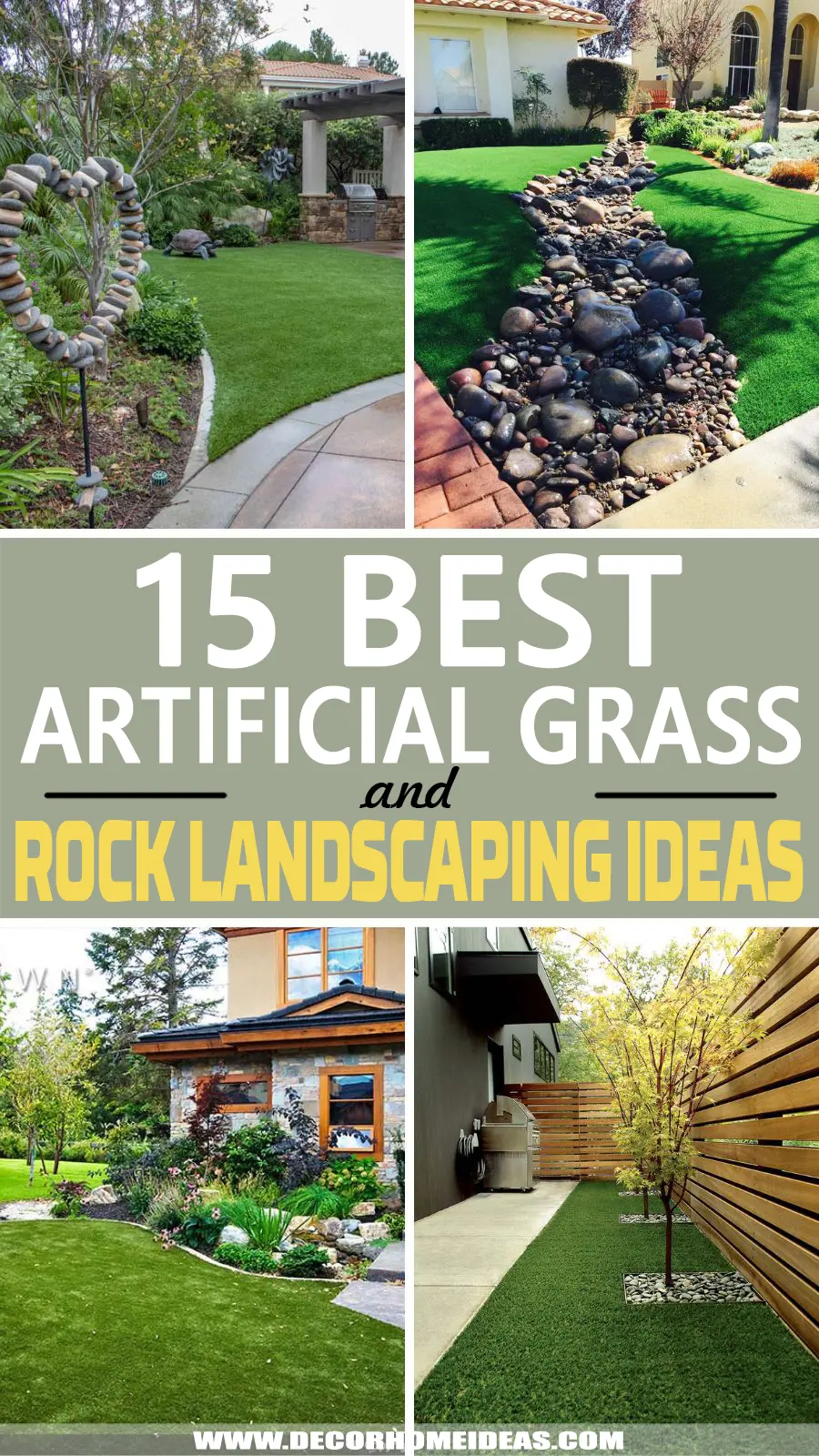 1. Spice Up Your Dry River Bed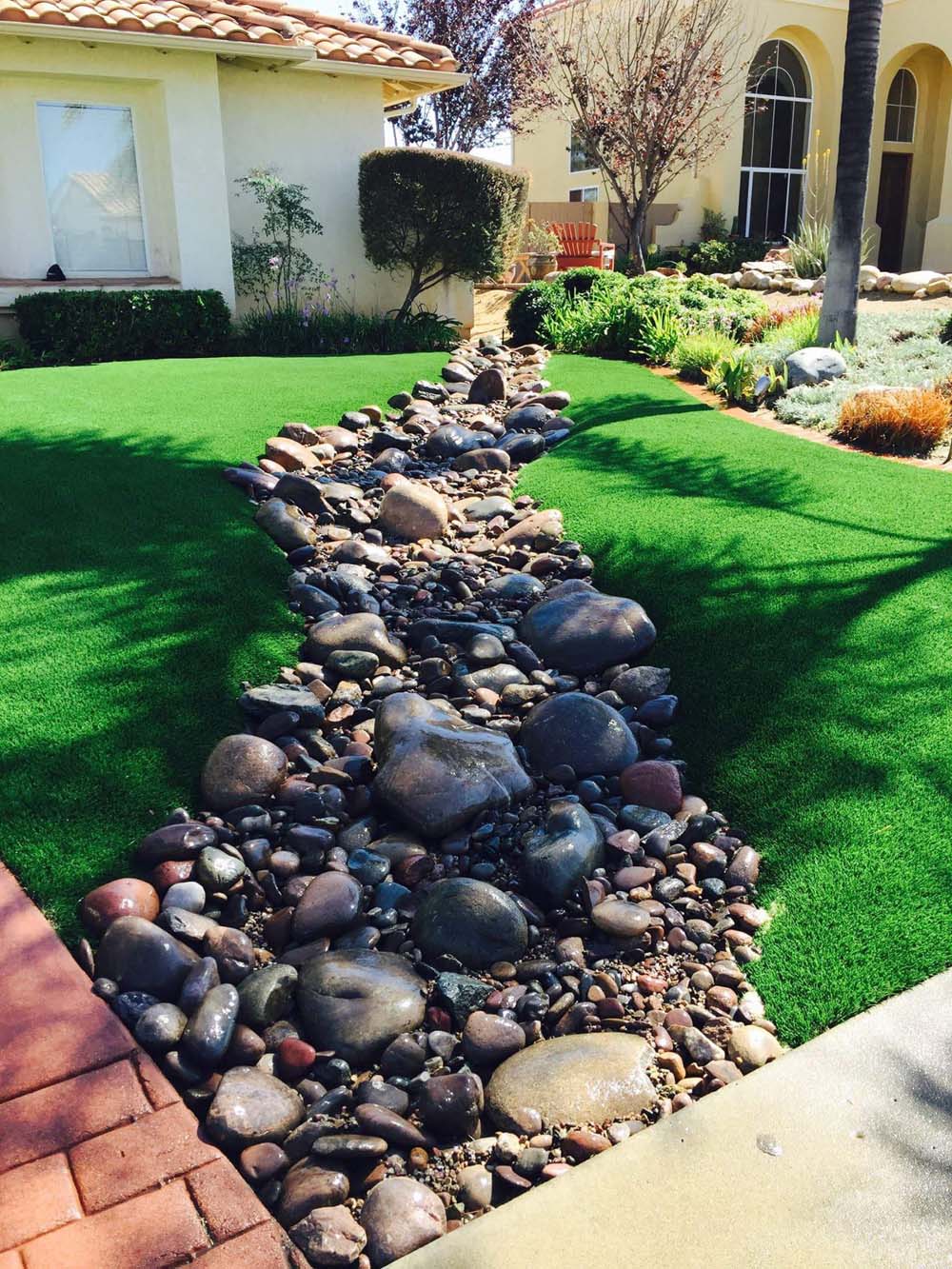 via Home Turf Synthetic Grass
Artificial grass is an excellent way to add elegance to a dry river bed in your front yard. The diagonal and wavy river bed passes through the center of a lush green turf that fits perfectly with its flow.
Use rocks of different sizes to add more variety.
2. Enhance Your Backyard with a Putting Green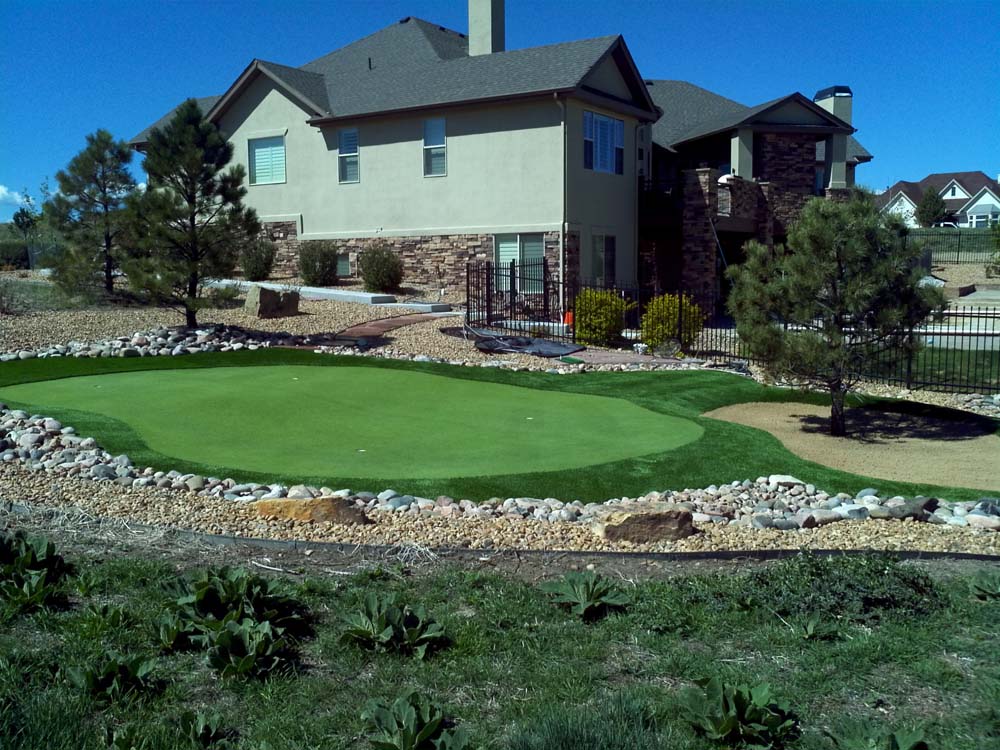 via PlushGrass Custom Synthetic Turf
There's no better way for your family to have fun in your backyard than with a putting green. Artificial grass has several advantages over natural grass when used in putting greens.
This mini golf course is bordered by small rocks which further outline the whole play area.
3. Refresh Your Backyard Patio with Artificial Grass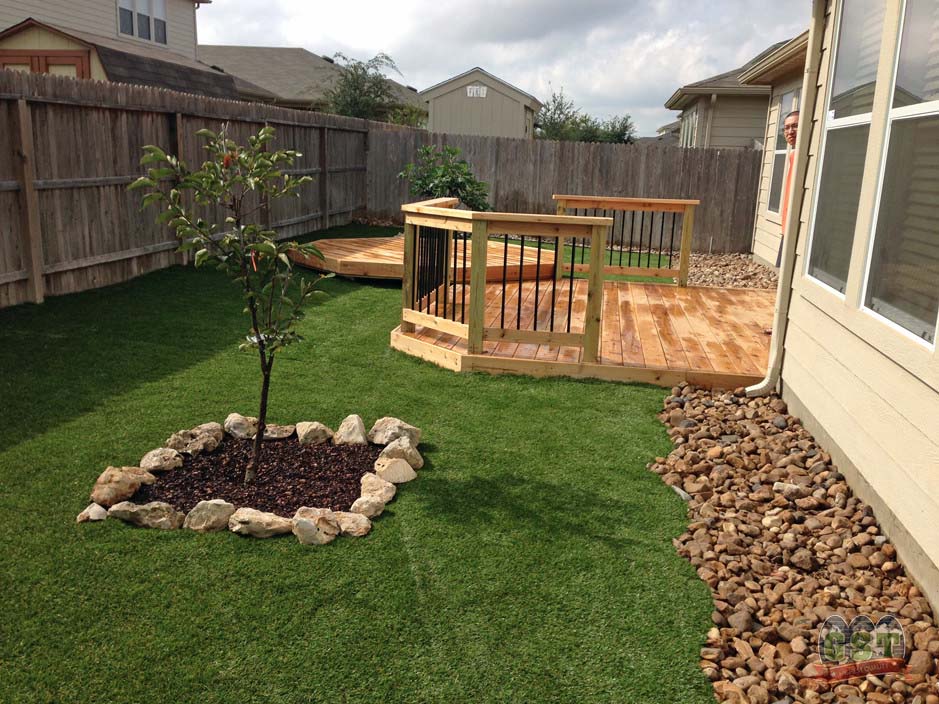 via Global Syn-Turf – Artificial Grass Supplier
Artificial turf is an excellent addition to a backyard-raised wooden deck patio. The trees incorporated in the fake grass bring a more natural feel to the whole look.
The pebbles border separates the turf and the house and doubles as a drainage system.
4. Showcase Your Skills in Your Front Yard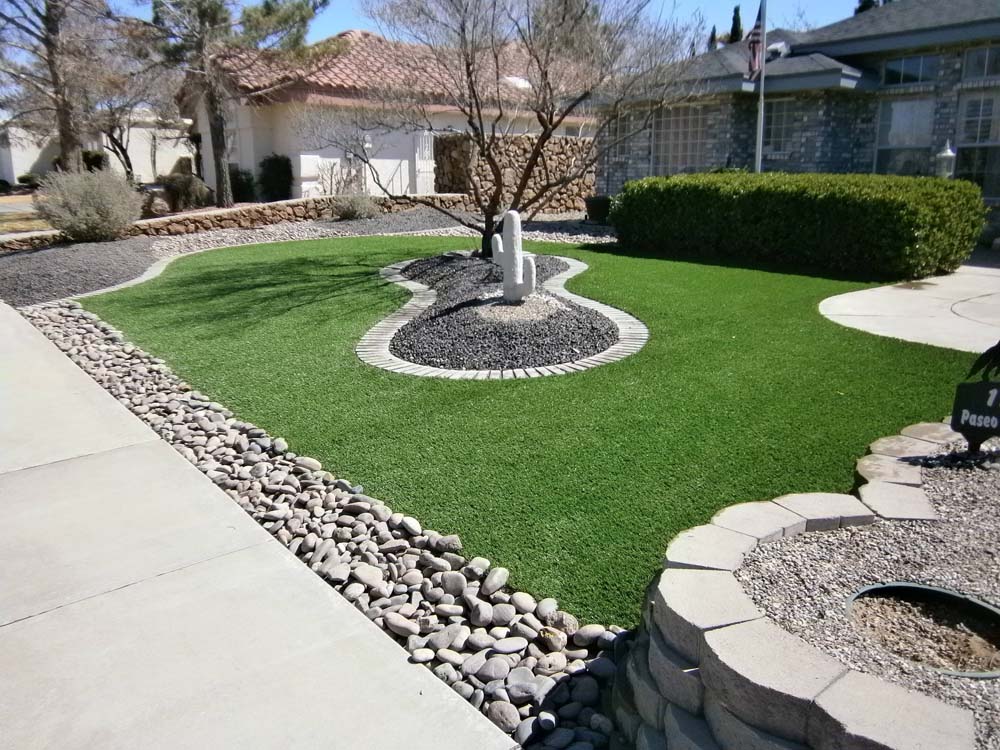 via Evo Turf & Pavers
The good thing about a synthetic lawn is that it always goes well with a centerpiece. The pavers and black mulch contrast the vibrant lawn, while the tree gives it a rustic element.
The different types of borders surrounding the lawn make it more aesthetically pleasing.
5. Elevate Your Enclosed Backyard with Fake Turf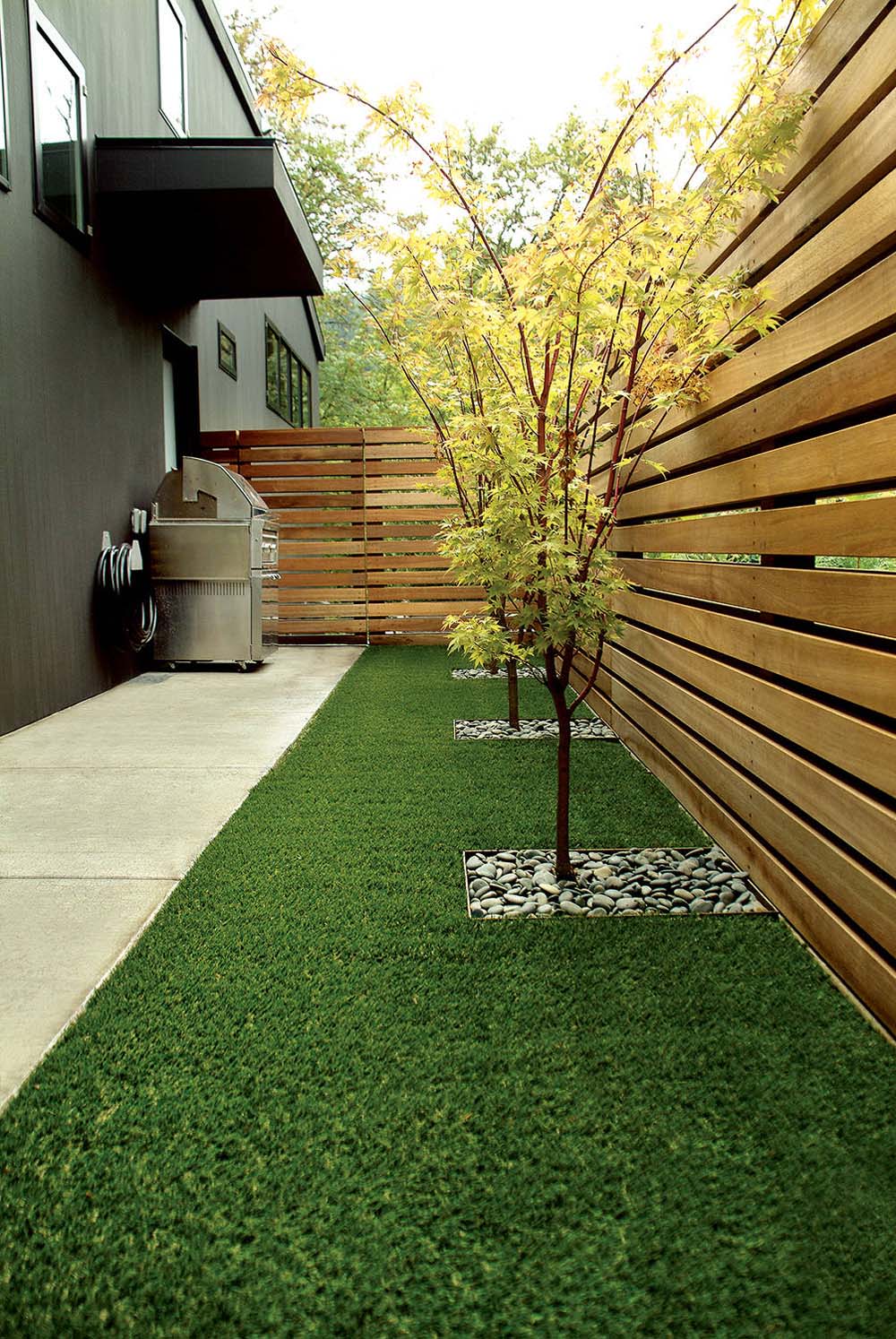 via Giulietti Schouten Weber Architects
If you have a small enclosed backyard, synthetic turf is a great option to improve your decor. The wooden fence and trees give the backyard a more natural appearance.
The turf is bordered by pavers and pebbles art at the base of the trees, adding more to the natural feel.
6. Transform a Backyard with Synthetic Grass and Boulder Bed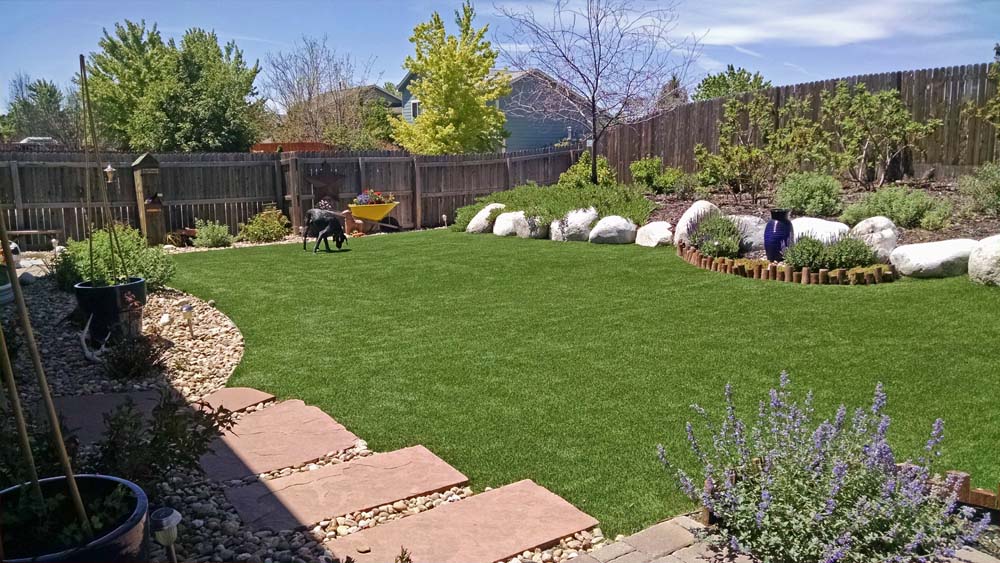 This synthetic lawn brings order to the structured landscape. The raised rock garden includes xeriscape plants that add color to the design, while the rustic planters and fence bring a neutral vibe.
This yard design can act as a great pet turf idea for your dog or cat to play around.
7. Instantly Boost Your Curb Appeal with Sweeping Curves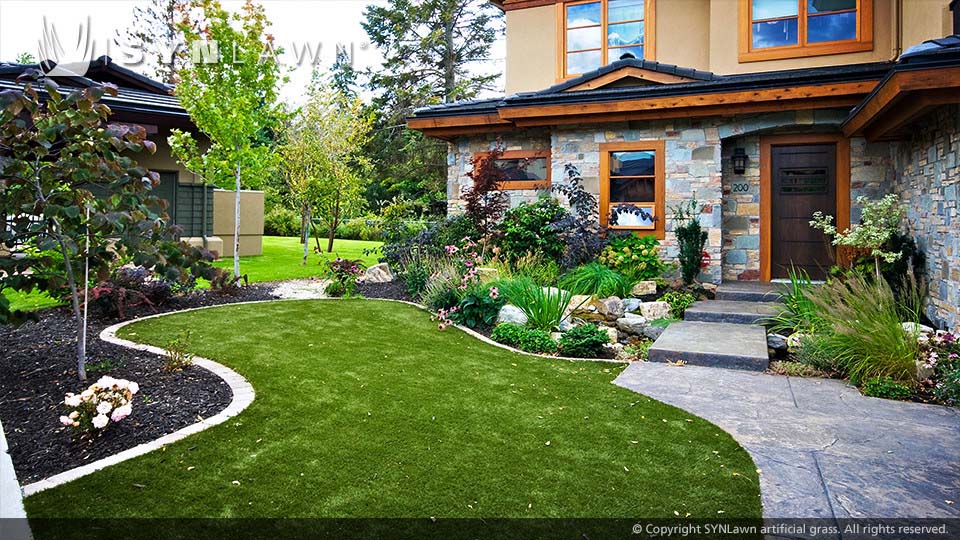 via SYNLawn
If you are a fan of a curvy yard, fake grass will help you achieve exactly that!
The black mulch and rock garden border add color and contrast to the curvy synthetic lawn.
8. Upgrade Your Yard with Artistic Flair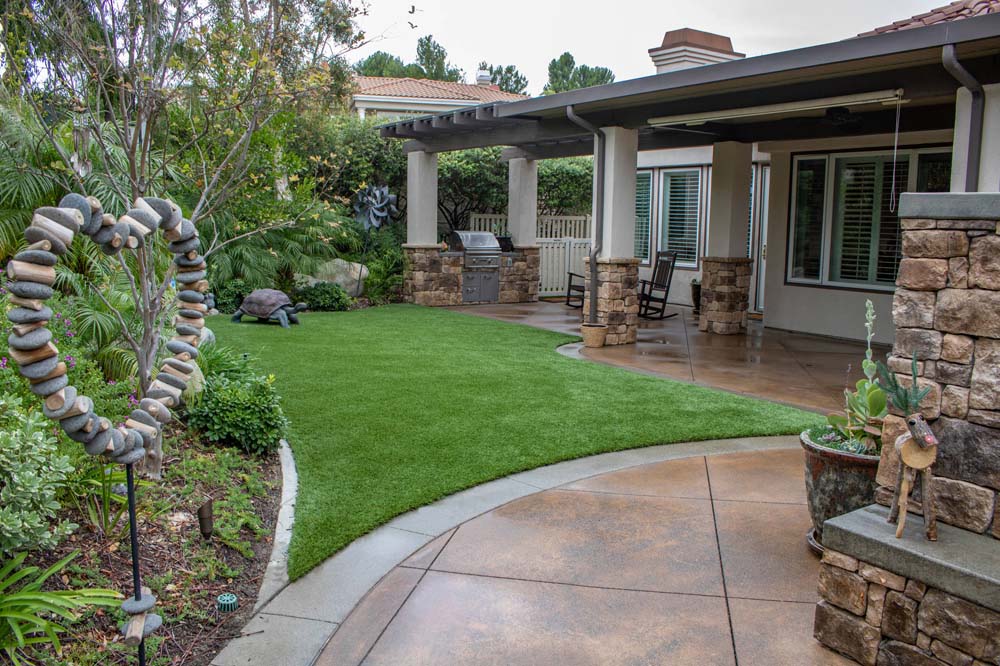 via Ecoworkz
The stone sculptures and natural vegetation make this artificial lawn more interesting.
This is further complemented by the rugged stone pillars and earthy brown pavers. You can add a water feature to make it even more stunning!
9. Make a Conventional Pathway in Your Yard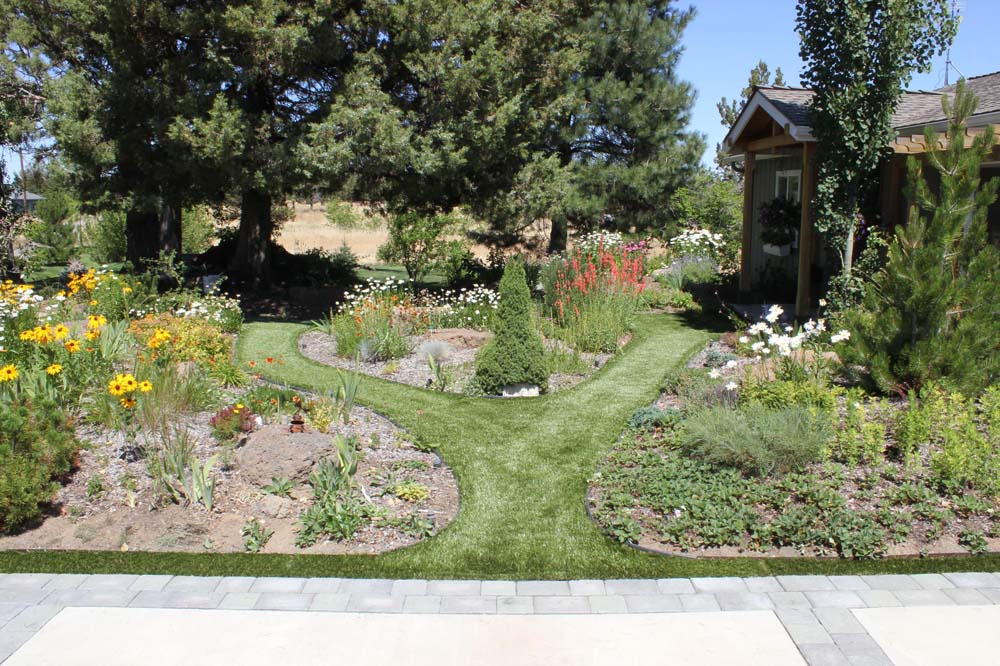 Instead of the classic flagstone or pavers walkway in your garden, this vibrant garden uses artificial grass for the path.
The path divides the yard into different gardens, each with its own unique set of plants and trees.
10. Embrace Minimalism with a Simple Yard Design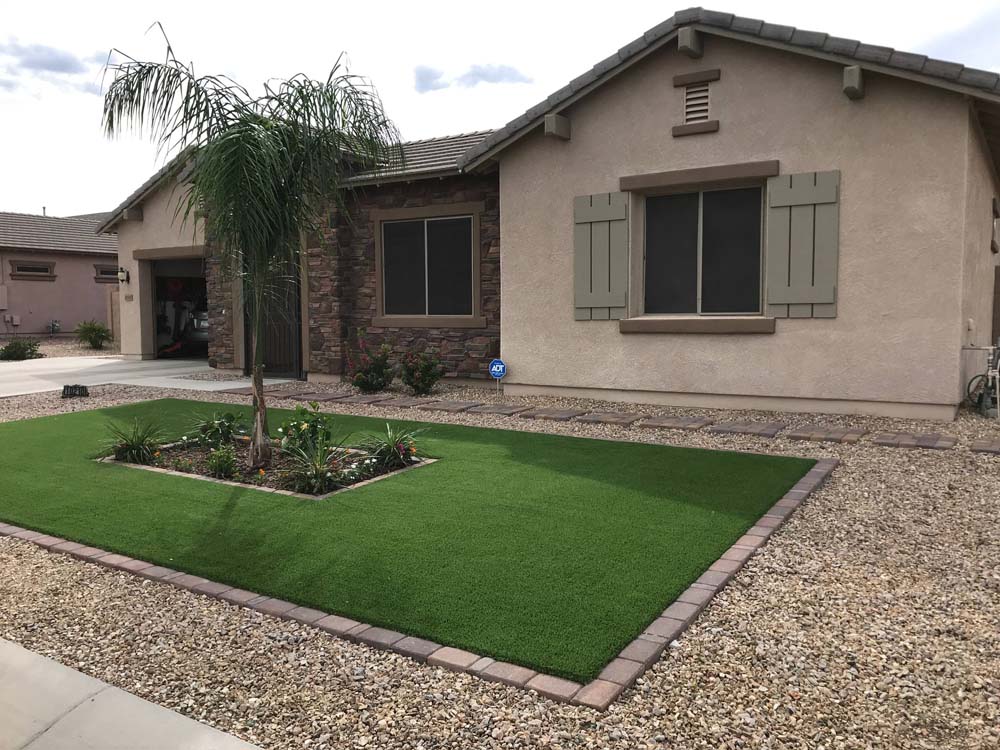 via Ground Zero Landscape and Construction
This backyard uses a more symmetrical approach for its synthetic turf design. The rectangular synthetic lawn is bordered by decomposed granite and has a small rectangular garden at its center.
By the way, palm trees will never disappoint you when you pair them with artificial grass!
11. Liven Up Your Paved Areas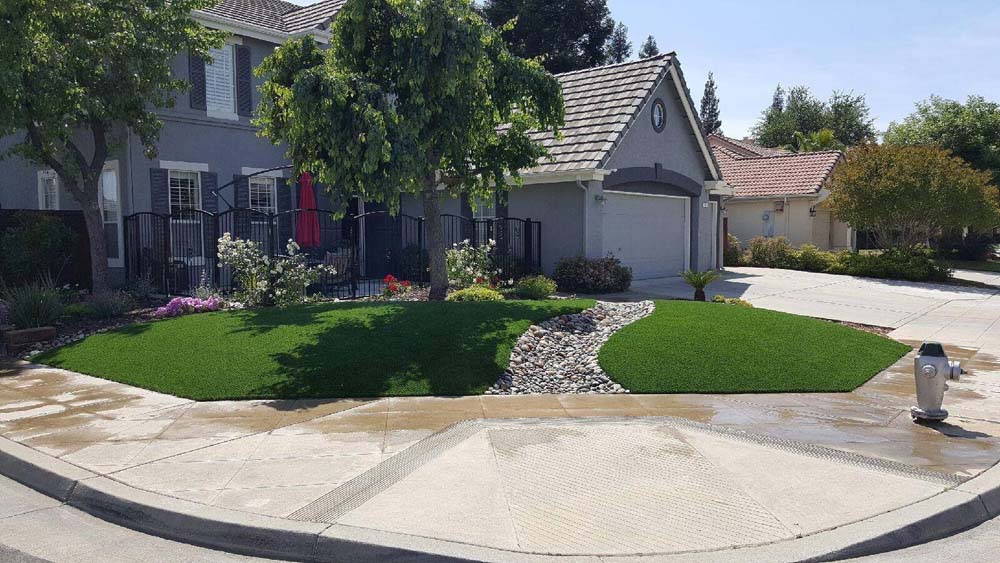 Pavers and fake grass will always look good together. The reason is that you can handle corners more easily with fake grass than with regular grass.
The synthetic turf is divided into two by a dry river bed, and plants and trees add more vibrancy to the yard.
12. Add Interest to Your Yard with Fake Grass and Pebbles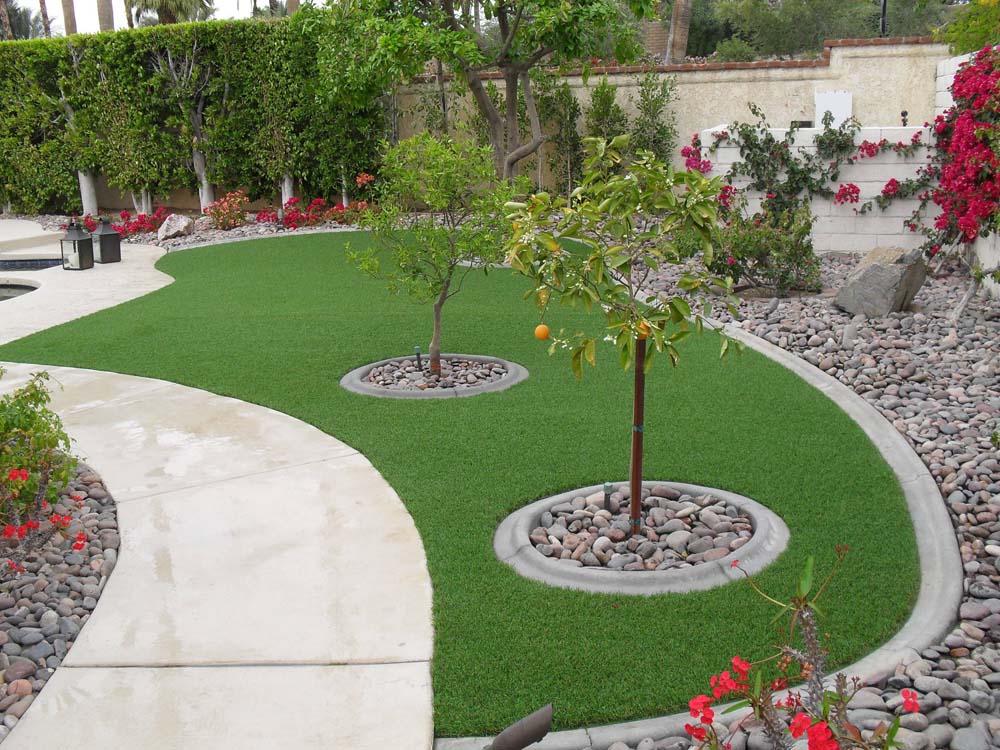 via Back Nine Greens
The combination of different focal points, such as the rock garden, pebble art, and paved pathway in this yard, add texture to the artificial lawn.
Dividing the yard with different elements makes it more attractive to the eye.
13. Cover the Slope in Your Yard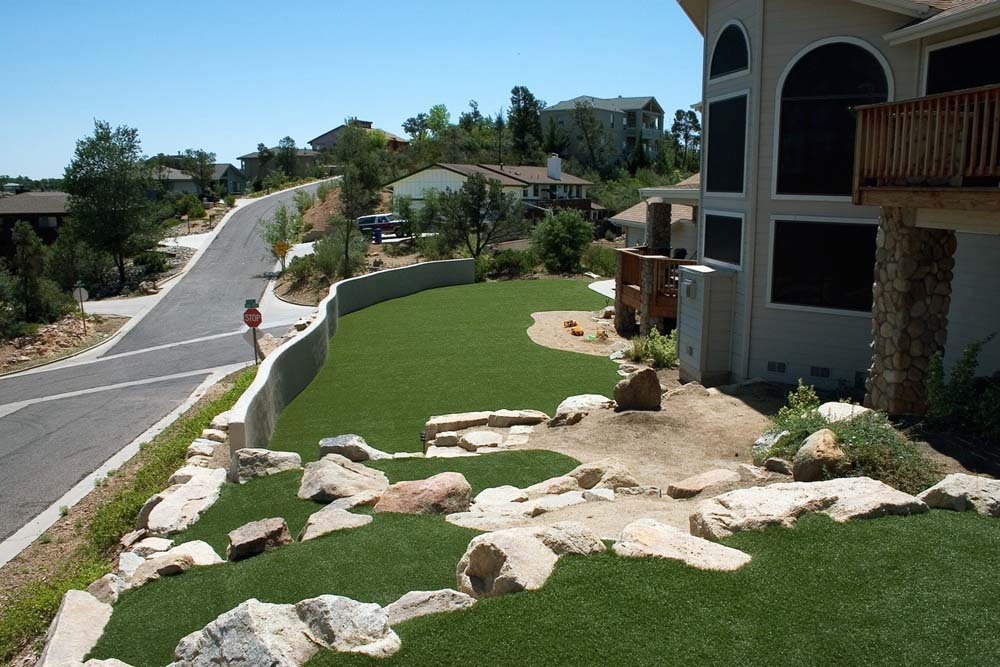 Mowing a slope is a challenging task. That's why using artificial grass is a great alternative; it will save you so much effort.
The stone elements in this yard act as retaining walls and add more gloss to the overall design of the idea.
14. Bring Rustic Elegance with Boulder Edging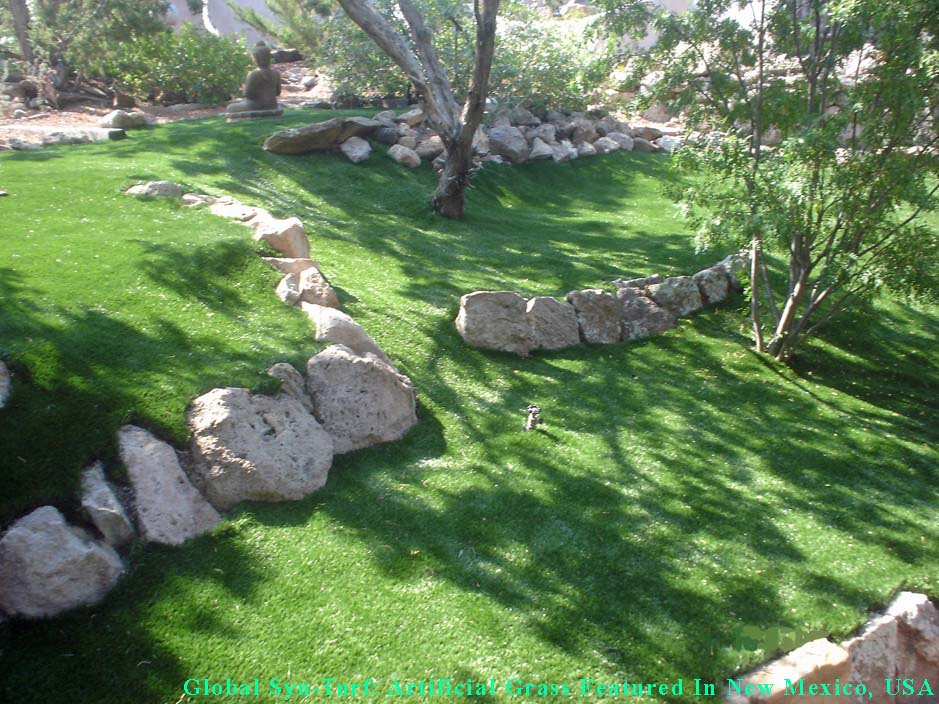 You can go all out with artificial grass and rock landscaping if you have a reasonably large yard.
The boulders act as edging, dividing the synthetic turf into several relaxation nooks. The shade from the trees makes the yard even more soothing.
15. Add a Rugged Appeal To Your Yard